Problem Solving at St. Michael's
The national curriculum for mathematics aims to ensure that all pupils:
become fluent in the fundamentals of mathematics, including through varied and frequent practice with increasingly complex problems over time, so that pupils develop conceptual understanding and the ability to recall and apply knowledge rapidly and accurately

reason mathematically by following a line of enquiry, conjecturing relationships and generalisations, and developing an argument, justification or proof using mathematical language

can solve problems by applying their mathematics to a variety of routine and non-routine problems with increasing sophistication, including breaking down problems into a series of simpler steps and persevering in seeking solutions
(National Curriculum 2014 Department for Education)
Problem Solving is a very important part of the Mathematics Curriculum at St. Michael's. Our curriculum provides children with the opportunity to deepen their understanding during dedicated Problem Solving sessions. These sessions give children the opportunity to apply their skills and fulfil the three main aims of the National Curriculum for Mathematics.
St Michael's Primary School has devised a Problem Solving Curriculum, with objectives that ensure progression of skills from Reception to Year 6. These extra objectives can be viewed by downloading the document below.
The strategies that form the foundation of our Problem Solving Curriculum are displayed on each classroom's 'Rich and Relevant' board in the form of this pinwheel.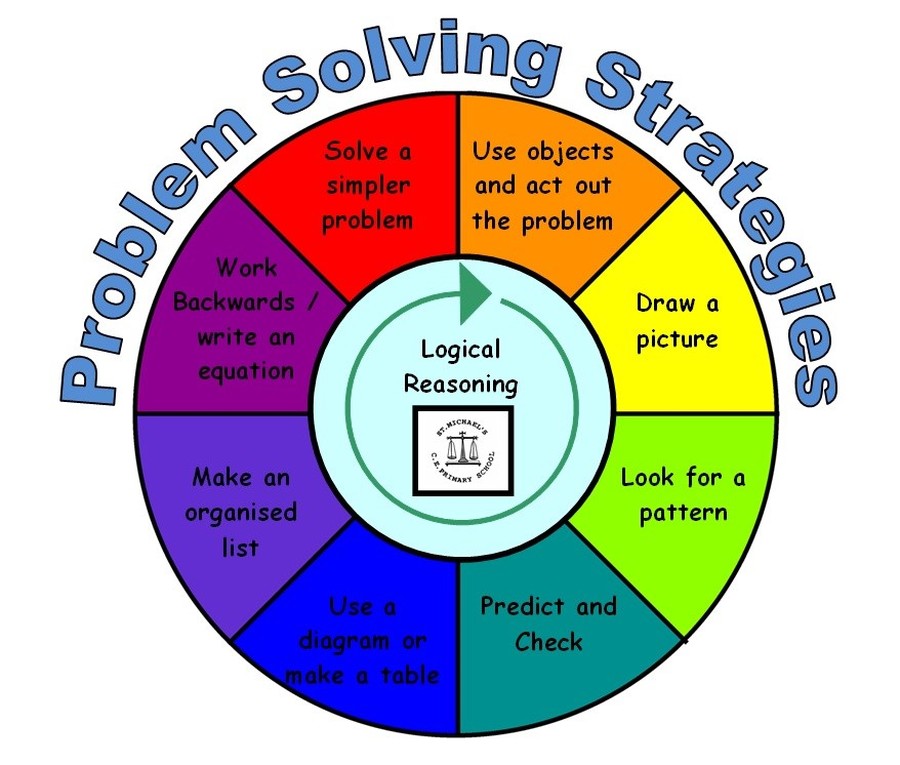 PROBLEM SOLVING DAY
On Monday 14th September 2015 the Happy Puzzle Company visited St Michael's and engaged the whole school in problem solving activities. Click here to see some pictures from the day.